Forums : Appearance : Pillar guage pod (254 Views)
February 21, 2006
looking for pillar guage pod for 2005 turbo
anyone have any ideas
February 21, 2006
EBay & Race&Street.
February 21, 2006
Had a dual pod from Race & Street in my '03 GT. Worked well and looked very nice.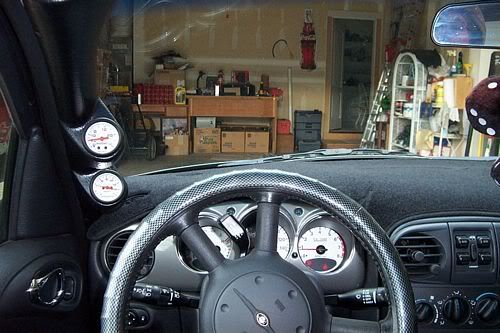 February 27, 2007
What gauges did you install in your pod?
Oil Pressure Gauge is a no brainier, but what other gauge did you install?
February 28, 2007
I had a pyrometer (exhaust gas tempature) and a boost gauge.
February 28, 2007
I've been looking to do this to mine, but can't ever find a good guage brand.
Mean Green what brand did you use?
February 28, 2007
Autometer gauges.
March 1, 2007
I was under the impression that they stopped making the pillar pods at "03" Will it fit the newer models?
March 2, 2007
You should ask the vendor. I don't think anything has changed at the pillar past '03. I've heard the pillar on the verts is different.
June 21, 2007
More than likely it is changed somewhat on the convertibles as the windshield is an inch shorter.
Regards
Terry
Post Message
BECOME A MEMBER TODAY!
Join.